What's more adorable than a puppy playing around? Well, not much for sure! If you have a pet at home, you probably caught him or her many times doing the most hilarious things, wishing you had your phone or a camera nearby to cherish that cute memory forever. Well, some people actually had one and here are the results! Cats are everywhere on the Internet but it looks like dogs can be as funny and goofy! Like cats, they also have the great gift of finding the most awkward places to chill out. Why lie around in a basket when you can end up being stuck on a branch, in a drawer, under a chair or in a cardboard box? No matter how comfy and fluffy his rug is, you can be sure that your dog will always find a better place to hang out! These adorable puppies did and look at the results! Here are our 21 favorite pictures of the cutest, funniest or silliest dogs being stuck! They can be smart, tiny, agile or particularly strong but when these dogs decide to shove their nose somewhere, it's for the better! No doubt, they will make you smile, laugh and even maybe run to your local animal shelter to adopt one of your own! Tired after a long day of work? Sick of your boss? Had an umpteenth argument about her cellphone bill with your teenage daughter? Then you deserve a true treat! Nothing will change your mind like these four-legged furry creatures! If, like us, you believe that a pet is part of the family, enjoy these pictures of adorable Labrador retrievers, German shepherds, golden retriever, beagles, terriers or pit bulls having a blast! After seeing these truly priceless pictures, you might want to try to always have your phone on hand when your favorite pet is around!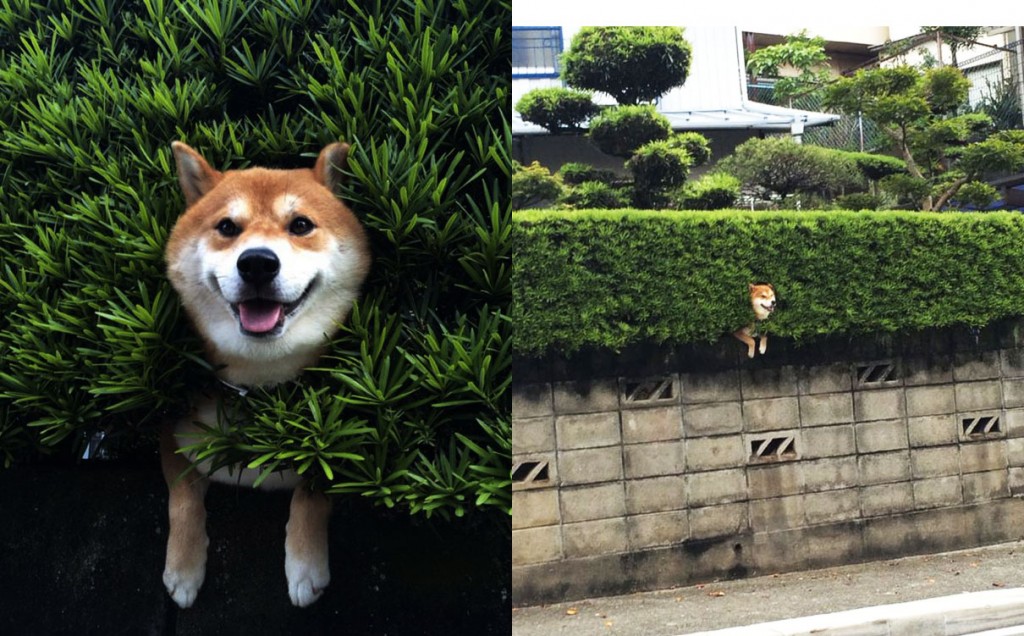 In honor of the optimistic Shiba Inu that was recently photographed stuck in a massive hedge, with not a care in his world, (you can see the full story, here) we've decided to put together an album of some of the silliest poochies in some of the most inconvenient places.
[adinserter block="7″]
[adinserter block="2″]
*big sniffs* MMmmmmm Honey soy chiicckeennnn.. 
Our little friend seems to be really enjoying himself There! The only thing missing to help him chill out is a good beer! He promised us he will start exercising and having healthier meals but it looks like lettuce, cucumbers, grapefruits and grapes are definitely not for him. You can be sure he won't leave a single crumb behind! Actually if you want to be on a diet and your kitchen is full of chips and cookies, you'd better have that little cutie around, he will make sure you stay fit… as for him, well, that's a totally different story!
[adinserter block="3″]
[adinserter block="8″]
So the view is great and all, and I'm not complaining but…Has anyone called the fire department yet? It's almost dinner time. 
So, from this amazing point of view, you can see the Rockefeller Center, Central Park, the Brooklyn Bridge, the Chrysler Building, the Empire State Building and Time Square, pretty impressive, no? I assure you, it was a great idea to get there to begin with… too bad we are stuck now… so, my advice to go down now is to look as cute as possible and hope that hot super models will walk by and take pity on us. Otherwise, we can always call 911 but unfortunately I left my phone in my other pants!
[adinserter block="7″]
[adinserter block="2″]
The battle is over; these couch pillows have won. Leave me and save yourselves…
My life is over, I loved her so much but I found she was cheating on me with a poodle, yes, a poodle! Since she left, my life has no meaning anymore. I've been watching re-runs of Lassie and Rin-tin-tin nonstop for the last 6 months and eating ice cream and doggie treats five times a day. When I sleep, I fantasize about sharing a basket with her again. I feel like my life is empty and that I will never bark nor run again. Anyway, thanks for seeing me Doc, how much do I owe you?
[adinserter block="3″]
[adinserter block="8″]
Now I see why mom always tells me not to stick my nose in places they don't belong.
I know what you are thinking guys, that I'm actually stuck in that wall? You couldn't be more wrong, I'm actually undercover! With my bricks costume, I'm basically untraceable. Granted, I basically cannot eat… nor drink… nor pee… nor move but what can I say, the job is the job and I'm the best at what I do ! OK, no, I confess, it's not true, I'm stuck! Please help! Or at least stop making stupid selfies with my face in the background! Also, if someone could stop by the butcher and bring back a wiener or two, I would be infinitely grateful!
[adinserter block="7″]
[adinserter block="2″]
 This is awkward.. I see now that this doggie door is intended for a little less chunky, a little less wrinkly poochies.
To be fair, this is a very small door… seriously, who can fit in this? A mouse? A guinea pig? A slender cat? Even a chubby rabbit might get stuck. So it seems like our little friend was way too optimistic there and that he could use at least a good anti wrinkles cream. We do have a serious bags under eyes situation! Remember, soothing your eyes with a cool cucumber is always a good trick to look radiant in the morning!
[adinserter block="3″]
[adinserter block="8″]
I'm not stuck. I have found a much better use for this round thing.
That doggie definitely undertook some serious investigations. Can you possibly imagine what he was thinking about? What is that thing for? Is there food hidden inside? It sure smells like it! Maybe humans use it for transportation? It's kind of annoying that it's right there, in the middle of the room, on my favorite rug, I should at least try to move it around. OK, OK, I can do this, it's exactly the right height for me, I have it, I have it, it's moving and… Actually, now I'm stuck. Let's hope no one sees me, that would be terribly embarrassing!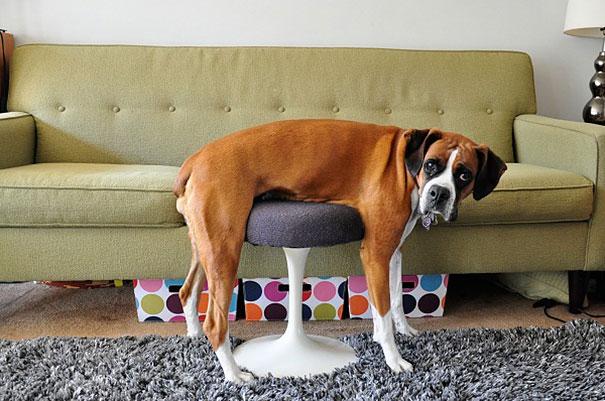 [adinserter block="7″]
[adinserter block="2″]
I've been here for 2 hours now…So much for relaxing in this warm afternoon.
It was supposed to be the perfect date. For days I've been working on this. First, we will have delicious cocktails then I will brought her a yummy stack of bones and we could watch one of her favorite movies, Beethoven or 101 Dalmatians maybe but not Marley and me because it's too sad (spoiler alert: how dare they kill the dog at the end !) and finish by cuddling in that luxurious hammock I purchased on purpose… so this is how it was supposed to go… but now I have the feeling that everything is falling through ! I guess my friends were right, I'm not ready to start dating again.
[adinserter block="3″]
[adinserter block="8″]
Please don't sit on me.
Do you remember a couple of years ago, Ikea had a delightful April's fool joke! On April 1st only, they started advertising for a high chair designed for dogs! It was created to make dogs feel like they are truly part of the family and so that they can play a part in conversation during the meals. Of course, it was nothing but a good prank. But it looks like this little fellow took it a bit too seriously. Isn't he completely adorable with that blue chair on his back? Someone please, give him a hand because he might stay stuck for a while!
[adinserter block="7″]
[adinserter block="2″]
This is more comfortable, and a lot less embarrassing than that stupid cone.
I remember when I got my stitches on my ears and neck last year. Since I kept scrubbing them because they were just so insanely itchy, they took me to the vet. First I thought he was nice because he petted me and gave me a treat… but then he put a big cone over my head! That traitor! I had to keep it for weeks! Can you imagine my embarrassment when I was running into my buddies? So this time, I say, no ! Anything but the cone! Let's take that box for instance, I would rather spend weeks with that stupid box on my face than wear that ugly ruff again. I actually look way cleverer this way, am I wrong?
[adinserter block="3″]
[adinserter block="8″]
So a funny thing happened today…
No doubt this good doggie is going to have a hard time running away from now on! Can someone please help him and set him free? On the other hand, it can also be very convenient when one organizes a cookout in the yard. Our friend here can probably help you setting everything up! And if you want to move, my god, you won't find in the world a cutest and furriest mover… but, watched out, we never said he was the most efficient!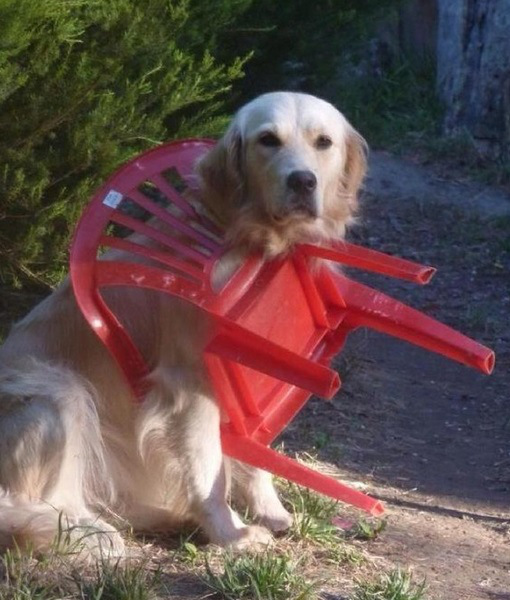 [adinserter block="7″]
[adinserter block="2″]
Darn it, did they have to call the firemen? Don't tell my friends(✖╭╮✖)
On the bright side, I got to be petted by handsome firefighters, to have my pictures published in the newspapers, to have my family all worried about me and, more importantly, to become a viral Internet celebrity, which can be seen as a plus. On the down side now… I've been defeated by a door! A stupid, lame, wooden door! I fought all types of things during my life, cats, squirrels, mice, even other dogs sometimes (tiny ones of course, when I was sure to win) and I always won… but I found my master, that door was better than me! I might just look away, hoping no one recognizes me. But I do wish you realize the most handsome dude on this picture is, by far, the dog!
[adinserter block="3″]
[adinserter block="8″]
To infinity… AND BEYOND!!!!
So, it was a normal day, like any other days, and for some reason I found that box on the living room floor. I don't even know how to explain this but it and I we instinctively felt deeply connected. Maybe it was its color, its smell, its shape or the fact I was completely bored that morning, I would not know how to explain it. Anyway, long story short, this is eventually what happened… What do you think of my new look? Trendy, isn't it? Not really comfy I admit but it is the same things with high heels, not that I tried, of course. I am definitely launching this new trend as soon as possible! I'm going to make a fortune out of it… in the meantime… can someone please give me a hand?
[adinserter block="7″]
[adinserter block="2″]
They have cameras, how great. Were the scooby snacks really worth it, puppy?
OK, the situation does look bad right now and I look a bit silly with that jar on my face. But don't be fooled, you really think I would be stupid enough to stick my head in that jar just to try to get a few dog snacks? Of course not, I'm way too clever for this! I'm actually practicing to become a space dog! Honestly, Laika was so over-rated! She was a stray dog! I'm way classier than this, I can do better! She went to space but I'm training for something way more impressive, I will be the first dog on Mars, or on Neptune, or on Pluto or… I know… on the sun! Take this Laika!
[adinserter block="3″]
[adinserter block="8″]
Would you believe me if I said I didn't ruin your plants?
Wow, this cute dog seems to have a serious gift for gardening or for destroying! We hope you did not put too much effort in your floral arrangements because it is likely not much is left of them! But look at how happy this cute doggie seems to be! It looks like that garden box is the comfiest basket ever! Just remember to water him regularly to keep him happy! A treat or two will also be highly appreciated!
[adinserter block="7″]
[adinserter block="2″]
Man, this is great! You'd be surprised at how many snacks you can find down here! 
Of course, we love all these dogs but this one might be our very favorite. I mean, look at him, how did he even end up there? If he was playing hide and seek with his pals, we have absolutely no doubt he could be the winner! We are wondering what he might have found down there… his favorite toy? A snack? It sure looks like he is going to stay hidden under there for a long time. See you around buddy!
[adinserter block="3″]
[adinserter block="8″]
When your ugly friend invites you to 'Netflix and chill'…
We admit, we often have a tendency to lie down on the couch after a long day of work, order take-out and just turn on TV and this dog sure seems to have the same bad habit! He's been stuck for weeks and after watching all the Dallas reruns, he is about to start Days of our lives. You have any question about the Sopranos' finale or about the true meaning of the polar bear in Lost? He can also help you for sure!
[adinserter block="7″]
[adinserter block="2″]
Nope, not stuck, just cleaning these plates for you.
Here is a clever invention we all desperately need! Better than the dishwasher, ladies and gentlemen, I present to you… the dogwasher! You did not have time to pre-wash your plate full of sticky tomato sauce or your mug stained with pumpkin latte? Not a problem, the dogwasher will do it for you! And you can be sure that he takes his job extremely seriously! Your dishes will be spotless! To try it is to love it!
[adinserter block="3″]
[adinserter block="8″]
Uhh.. You got home early…I can explain. Umm uhh.. I love youu!?
Hi you! It looks like you made quite a mess there! Seriously, can you even imagine what this good doggie was trying to do? Because honestly, we can't! Our guess is that he might have tried to chase a fly, or a ray of light, or maybe even his own shadow but somehow, we can't say it ended up really well ! We do hope is was time to change these shades anyway because they are pretty much useless as they are now!
[adinserter block="7″]
[adinserter block="2″]
Its the only place that doesn't smell like diapers.
Maybe you heard that dogs tend to get a bit jealous when they are not the center of attention anymore. This usually happens when one gets terribly busy doing something else or when a new baby arrives in the family. Our good friend here is desperate for attention and is even trying to sneak into this big diapers bag. Don't worry pal, no one is going to leave you behind, you are part of the family no matter what! But seriously, take your head out of this diapers bag because you might suffocate really soon otherwise! We don't want to call 911 on you!
[adinserter block="3″]
[adinserter block="8″]
Oh, you know, just hanging out.∩(◕‿◕)∩
It looks like that cute dog is about to play quite a prank on the next passerby. If that person is not paying attention, he or she is up for a great surprise! Seriously, what is it with pets and trees? Cats tend to get stuck on branches we knew this but now dogs want to become some sort of tree climbers as well? Someone please help our friend there, it's almost dinner time! But we do have to admit something… he does look really happy!
[adinserter block="7″]
[adinserter block="2″]
His extreme fuzziness helps him easily squeeze in and out this tiny peep hole.
This picture is just the most beautiful in our selection from our point of view. Look at this gorgeous dog and how sweet and soft he looks. Who would not fall in love at first sight with such a gorgeous Husky? Apparently there was quite a show to see because he managed to stick his head through a tiny peep hole. Doesn't he look like the perfect sculpture now? Not a scary gargoyle but an adorable furry statue!
[adinserter block="3″]
[adinserter block="8″]
If curiosity can kill the cat, it can just as easily ensnare the dog. 
Can someone please help me? I could seriously need a hand right now! I feel like I'm in jail! I did nothing bad I swear! Granted I probably ran after a bunch of squirrels but seriously they were totally asking for it. I might have barked at the neighborhood kids but otherwise I am a decent dog, I swear! You won't find one that's better than me!
We hope you enjoyed these adorable pictures as much as we did ! Don't hesitate to try to make some of your own ! Who knows, your puppy could become the next celebrity everyone is talking about !
Can't get enough? Click HERE for another amazing doggie story!
[adinserter block="7″]
[adinserter block="2″]