When I was a kid, my father would take my brothers and me to the video store on Saturday mornings and let us choose 5 to 6 video tapes of our liking. There would always be, among the choices, an animated movie, a family comedy/adventure, a thriller, and one with dogs. I didn't realize it at that time but looking back, boy, did dog movies make big hits – especially among children! Back then, we had a golden retriever named Clea, and after watching dog movies, I would imagine going on all those adventures with her. I would pretend that I helped her escape the cruelty of the town circus. I would pretend that we were at war with our neighbors' dozen cats because "dogs rule and cats drool" – yes, I had that written on a cardboard and hung on our fence. I would pretend that we were a dog and cop team set out to catch bad people and solve crimes. The make-believe adventures were endless! Oh, but we did have our own real adventures, too. Clea died when I was about to graduate from college, after about 15 years of being with us. At times when I miss having her around, I stream some classic dog movies online and relive those days.
[adinserter block="3″]
[adinserter block="8″]
I know you have those days, too, when you miss an old puppy friend or when you miss those simple days of childhood where you had plenty much time to hang out with your pet. Let's relive those days, why don't we? Here are 15 of the best, nostalgic dog movies that I recommend you watch on your next movie marathon weekend:
15. Top Dog (1995)
This movie may have gotten bad reviews from adults but for a 10-year-old kid, Top Dog merits two thumbs up. Chuck Norris plays a cop named Jake Wilder whose partner gets killed by terrorists. In order to solve the crime and put an end to terrorist activities altogether, he partners up with Reno the Dog and goes on an adventure-packed chase after extremist criminals. Their hand-to-hand fights with the bad guys will surely have you rooting for the dog-cop tandem.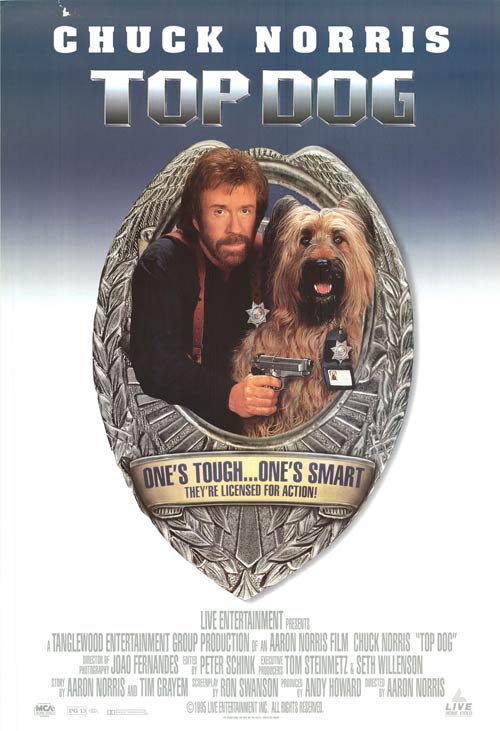 [adinserter block="7″]
[adinserter block="2″]