rPlay time is an important part of a dog's growth and development. Playing in itself is a fun activity and no dog would refuse the opportunity to have a little fun. It is during this time that dogs can let go of all seriousness and just be little furballs running around, jumping, chasing, wrestling, and all those things that are pleasurable for dogs. See, this is one facet where dogs are just like us humans. "All work and no play makes Jack a dull boy," so the proverb goes, and it's the same with dogs. Playing stimulates the mind and encourages physical movement outside of what is required in normal situations such as guarding the house, snarling at the cat, and delivering slippers to humans at 6 in the evening. Mental and physical exercise is vital in keeping dogs in tip-top shape. Imagine what life would be like for dogs if all they did the entire day was watch the rotation of the clock. Imagine what life would be like if that happened to you. Not pretty, right? As your canine's BFF, it is your responsibility to make sure your pet gets enough time to play each day. If you're clueless about what game to play with your dog, hide and seek is always a safe bet. Just look at these adorable pictures of dogs playing hide and seek.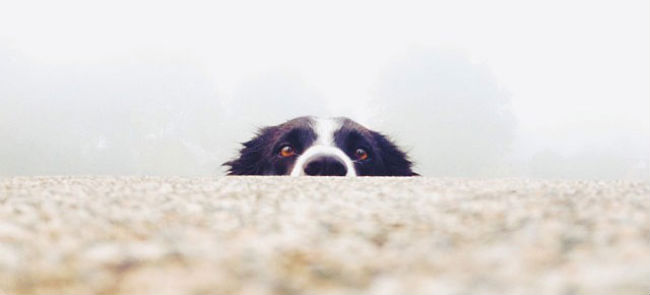 [adinserter block="3″]
[adinserter block="8″]
1. While waiting for the seeker, Charlie realizes the curtain would make an awesome Halloween costume.
[adinserter block="7″]
[adinserter block="2″]