Large dogs can often be quite intimidating. If dog lovers can get past that intimidation they will see that most large dogs are nothing but 
gentle giants
. Owning a large dog can have quite a few great benefits that may come as a surprise to many. Once large dogs mature and grow to full size they actually require less physical activity than smaller breeds, therefore they are quite ideal for a smaller home or even an apartment. Larger dogs are also known to be better around strangers. Due to their size they are less intimidated and it is easier to get them to be accustomed to meeting new people. Here is the list of the 24 Biggest Dog Breeds in the World. Wait until the end, these things get HUGE!
#24. Scottish Deerhound
75-110 lbs
Sir Walter Scott of Scotland was the proud owner of a Scottish Deerhound named Maida, he described the breed as "the most perfect creature of Heaven." The Scottish Deerhound makes a lovely family dog but not the greatest of watchdogs as they are just too nice and have never met a stranger. They do like to chase prey so it's not recommended that they be in a home with smaller animals as they may be mistaken as one of the "prey".
[adinserter block="3″]
[adinserter block="8″]
#23. Dogo Argentino
79-99 lbs
The Dogo Argentino is a striking dog who is all white and quite muscular. Dogos are quite often trained to be police or military dogs. Occasionally referred to as the Argentine Mastiff, these dogs were originally bred to hunt wild game. Dogos can be a good family dog if well socialized early on.
[adinserter block="7″]
[adinserter block="2″]
#22. Kuvasz
77-110 lbs
The Kuvasz is an ancient Hungarian breed mainly bred for being a live stock dog. According to the AKC the Kuvasz is "More spirited and energetic than most members of the 100-pound club". The Kuvasz's loyalty knows no bounds and neither does its love for his family. With its full white coat it looks as though this breed's coat would be high maintenance when actually only minimal brushing is required.
[adinserter block="3″]
[adinserter block="8″]
#21. Bernese Mountain Dog
79-110 lbs
The Bernese Mountain Dog is an eye catching breed with its wondrous size and coat. That beauty does come with a price. Being a double coated breed they shed excessively. Bernese Mountain Dogs are happiest when exercising. They thoroughly enjoy hiking, walks or even working on a farm. This is a breed that you can say really is as beautiful on the inside as the outside.
[adinserter block="7″]
[adinserter block="2″]
#20. Tosa Inu
The Tosa Inu is a rare Japanese breed that was originally bred as a fighting dog and unfortunately still is to this day. The Tosa Inu is a relaxed, laid back dog until something catches his eye, whether it be an intruder or a leaf blowing by the window. Tosa Inus are known for having severe animal aggression, therefore it's probably best to let him be your only pet.
[adinserter block="3″]
[adinserter block="8″]
#19. Russian Black Terrier
80-150 lbs
The Russian black terrier was used in the 1940s and 1950s as military/working dogs. The Russian black terrier is ridiculously intelligent and equally stubborn therefore adequate training is recommended. The Russian black terrier makes for a perfect guard and family dog thanks to his protective, affectionate and playful demeanor.
[adinserter block="7″]
[adinserter block="2″]
#18. Cane Corso
88-110 lbs
The Cane Corso is an Italian breed who for years was highly sought after in Italy. The Cane Corso is an extremely dominant and strong willed breed that requires an extremely confident and equally dominant owner. Corsis are typically quiet and reserved. Thanks to their high intelligence they are very trainable. Their short coats make them light shedders and require little grooming.
[adinserter block="3″]
[adinserter block="8″]
#17. Anatolian Shepherd
88-140 lbs
The Anatolian Shepherd is a large and powerful dog with superior vision and hearing. These dogs are constantly on the go and needing something to do or someone to protect. If owning an Anatolian Shepherd be prepared for a good amount of exercise. These dogs are very protective and territorial making them excellent watch dogs.
[adinserter block="7″]
[adinserter block="2″]
#16. Tibetan Mastiff
88-140 lbs
Tibetan Mastiffs are an impressive breed looking almost as if a lion and a grizzly bear mated. Tibetan Mastiffs prefer to be indoors in a cool and calm environment. They aren't a very active breed either. They enjoy a walk every now and then but would much rather be cuddling on the couch. The Tibetan Mastiff doesn't have a lot of patience for children, unless they were raised with them. The Tibetan Mastiff is strong willed and stubborn and will try to test you.
[adinserter block="3″]
[adinserter block="8″]
#15. Akbash
90-140 lbs
With a stunning all white coat the Akbash has remarkable hearing and strength, making them an exceptional guard dog. This intelligent, brave and loyal dog is solely devoted to his owner. They are best with older children who know how to respect animals.
[adinserter block="7″]
[adinserter block="2″]
#14. Kangal
90-150 lbs
The Kangal is a breed originating from Turkey. They were bred to be livestock guardians. That protectiveness remains in them today. If socialized early they can be a great family dog. They will however need lots of room to roam as they live for exercise.
[adinserter block="3″]
[adinserter block="8″]
#13. Leonberger
90-160 lbs
According to German legend, the friendly Leonberger was apparently bred as a 'symbolic dog' that would mimic the lion in the town crest. If given regular training the Leonberger makes a fantastic family pet, they especially love children. The Leonberger's majestic coat does shed a lot and requires daily brushing.
[adinserter block="7″]
[adinserter block="2″]
#12. Landseer
99-150 lbs
Many consider the Landseer to be nothing more than a black and white Newfoundland, though others consider them to be their very own breed. Landseers have a phenomenal temperament and are known to be extremely brave and intelligent. This breed has superb swimming skills and loves to be around the water.
[adinserter block="3″]
[adinserter block="8″]
#11. Great Dane
99-200 lbs
The Great Dane is well known for its intimidating size and height. Don't let that fool you. The Great Dane would gladly be a lap dog if allowed. A male great Dane can reach up to 200 lbs. With a life span of only 6-8 years enjoy these dogs while they are here as they are almost a perfect breed. Obviously this grand dog needs a lot of room to run so a large living space and yard is preferred.
[adinserter block="7″]
[adinserter block="2″]
#10. Caucasian shepherd dog
100-150 lbs
The Caucasian Shepherd Dog is known to be headstrong, assertive and brave. Because of the combination of those traits if not well socialized and properly trained early on they can become brutish and unmanageable. The Caucasian Shepherd Dog's average weight is between 100-150 lbs.
[adinserter block="3″]
[adinserter block="8″]
#9. English Mastiff
100-200 lbs
The English Mastiff is well known for being a very protective breed. They are also known for being affectionate, calm and friendly which makes them a wonderful family dog. English Mastiffs truly are gentle giants growing to be anywhere between 150-200 lbs on average. This breed is somewhat active, they are perfectly happy with a good long walk once a day.
[adinserter block="7″]
[adinserter block="2″]
#8. Newfoundland
100-150 lbs
As the AKC Standard says, "Sweetness of temperament is the hallmark of the Newfoundland." Newfoundlands are known for their great personality. They are active dogs who are happiest when going on walks, a romp through the snow or a swim in the lake. Newfoundlands do require consistent grooming due to their beautiful, thick and furry coats. Newfoundlands do not like to be left alone as they suffer from severe separation anxiety.
[adinserter block="3″]
[adinserter block="8″]
#7. Komondor
110-130
Yes, the Komondor is the dog that looks like a giant mop. This unique breed is also known as the Hungarian Sheepdog. Komondors are known to be extremely territorial and form a very strong bond with their humans. Komondors live on average between 8-10 years and usually reach 130 lbs. Komondors are very high maintenance when it comes to grooming and activity.
[adinserter block="7″]
[adinserter block="2″]
#6. Neapolitan Mastiff
110-130 lbs
The Neapolitan Mastiff also known as the Italian Mastiff is a dog that makes an excellent guard dog due to its massive size and extreme protective instincts. The Neapolitan Mastiff needs a skilled and confident owner as this breed is very strong willed. This breed can actually become quite lazy if allowed so regular exercise is a must to avoid obesity and health issues.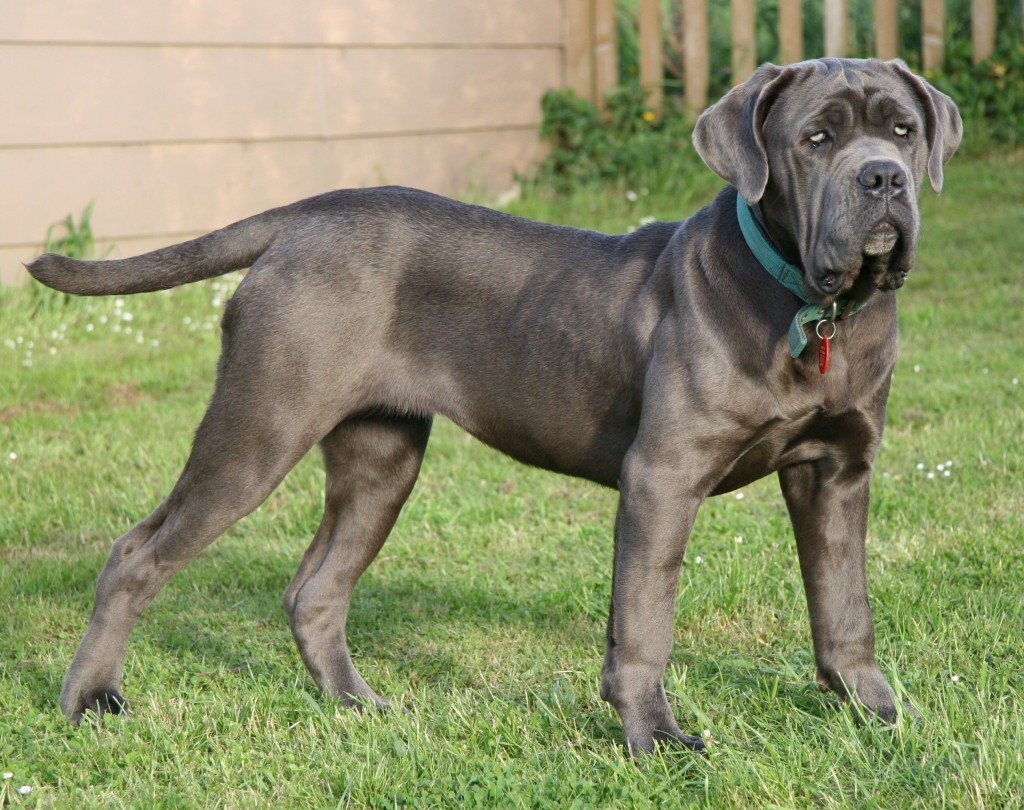 [adinserter block="3″]
[adinserter block="8″]
#5. Greater Swiss Mountain Dog
110-150 lbs
Greater Swiss Mountain Dog referred to as a "Swissy" are the life of the party kind of dogs. They are extremely social and want to be around you whenever possible. Swissies are very family oriented and famously even tempered. Their short and shiny coats only require a brushing or two a week. Swissies are pretty docile around the house but are always up for a nice walk if asked.
[adinserter block="7″]
[adinserter block="2″]
#4. Irish Wolfhound
115-180 lbs
The Irish wolfhound is by far the tallest of all dog breeds. The Irish wolfhound can reach 32 inches and 180 lbs. Unfortunately due to being prone to numerous health issues, this kind and gentle breed has a life span of only 6-8 years. The Irish wolfhound does best in a home with a large fenced in yard. If the yard is not fenced in they are known to take off and chase prey as soon as they get a chance.
[adinserter block="3″]
[adinserter block="8″]
#3. Dogue De Bordeaux
120-140 lbs
Dogue de Bordeaux or French Mastiffs are one of the most ancient French dog breeds today. This breed is very serious looking and has quite an intimidating presence. That combined with their loyalty and courage makes them the perfect guard dog. They do not require a lot of brushing, though a bib for all their drool might be recommended.
[adinserter block="7″]
[adinserter block="2″]
#2. St Bernard
140-260 lbs
St. Bernards can reach a massive 140-260 lbs. St. Bernards are well known for their loving, calm and kind nature. They are known to be wonderful with all people, even children. Typically the only fear a child should have of a St. Bernard is being knocked over by this gentle giant. This breed has a high potential for excessive weight gain so consistent exercise is a must. St. Bernards have a life span of 8-10 years.
[adinserter block="3″]
[adinserter block="8″]
#1. Boerboel
The Boerboel is also referred to as the South African Mastiff. Both males and females of this breed can reach over 200 lbs. They know it too with their quiet confidence. The Boerboels were bred in South Africa to protect their humans from whatever dangers the rough South African terrain might impose. Boerbels require little grooming but plenty of exercise.
[adinserter block="7″]
[adinserter block="2″]