Sometimes, it's strange to think that some dogs that people once called pets are gone from this world forever. When you think of the word extinct, sure the woolly mammoth may come to mind, but dogs?Back before the American Kennel Club, dogs were bred solely for work purposes; and sometime after the AKC, some breeds were solely breed for
aesthetic
purposes. But what would cause these dog's extinction? The breed would fulfill a need during that time period, and would die out or evolve once those needs were changed or shifted. These dogs would be bred into an entirely new breed. Some of these breeds wiped away by predators or disease, while others died out through lack of interest in keeping them.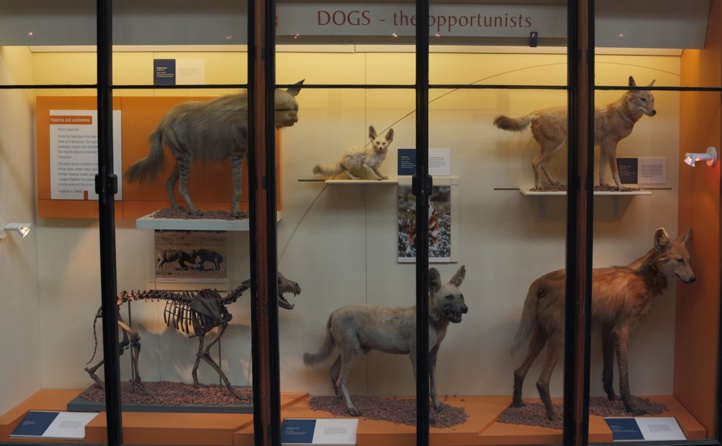 One breed -the Poi Dog, died out simply because eating dog meat had become unfashionable. Another breed that later evolved into the Pit Bull, had died out because The Animal Cruelty Act had passed, making dog fighting illegal in 1835. Some of these extinct dog breeds blood line live on in the newer dog breeds that we all know and love today, like the Mastiff, the Pit Bull, and the Akita.  In this list below, we're going all the way back to 3000BC to bring you 17 of the most unique dog breeds and their contribution to the newer dog breeds of today. Does your dog have an ancient ancestor? Find out now in this dog-gone history lesson.
Click Next Page to start the gallery
Extinct dog breeds
Alaunt- were large, short coated dogs of varying head-types.  This extinct pooch most resembles the present day Dogo Argentino and the Caucasian Shepherd Dog (except with short hair and a smaller head) which made them excellent large-game hunters. 
Alpine Mastiff- The Alpine Mastiff was one of the original ancestors to the modern day St Bernard. In 1829, the Alpine Mastiff was considered the largest dog in England. At the time 'Alpine Mastiff' and "Saint Bernard" applied to the same breed until they were cross bred with the Newfoundlands and Great Danes.  Today the composite breed that resulted carries the name St. Bernard. 
Alpine Spaniel-This intelligent breed was used for mountain rescues in the Alps. The Alpine Spaniel would search for lost travelers in heavy snow storms and return to their post so they could lead rescuers to the fallen travelers. This Alpine was a large breed of spaniel, about six feet from nose to tail and had more of a thik and curlier coat than the English Cocker Spaniel. Around 1847 a fatal epidemic disease swept through the region and reduced the number down to a single specimen, which forced the canons into crossing it with other breeds.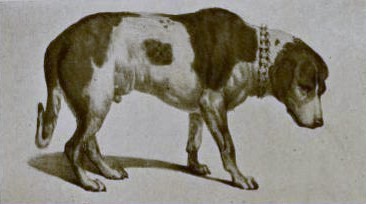 Bullenbeisser- Or the 'Bull biter' in German, was bred for it's agility and strength. This breed became extinct in the late 1870s when German breeders used them to create new breeds, crossing them with many different Bulldogs and Boxers in hopes to eliminate the Bullenbesisser's excessive white color. 
Blue Paul Terrier-This breed most resembles the Pit Bulls of today. They were powerfully built with a smooth coat and a flat forehead. There is no evidence showing where this breed originally came from, however there is a story of a pirate Paul Jones bringing them from his native town Kirkcudbright, a harbor town in Scotland in 1770. Later, gypsies around the Kirkcudbright area had kept the Blue Pauls and fought them for their own amusement. Blue Pauls were a crowd favorite because this breed were expert and tricky in their fighting tactics.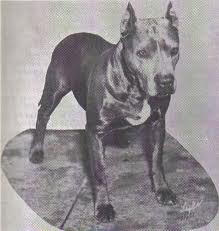 Kruī- Some time around 1280 AD the indigenous Polynesian people of New Zealand discovered the kurī during their migrations from East Polynesia. They used the kurī like the Native Americans used the buffalo. They ate their meat and used their skin and hair for cloaks, belts, and weapons.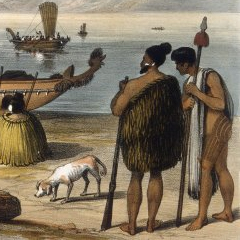 Chiribaya Shepard- When anthropologist Sonia Guillén discovered 42 mummies in the south coast of Peru, she also discovered the pre-Columbian breed of dogs that were buried in the cemeteries next to human mummies. It was determined that this breed was used as a sheepdog of llamas. These dogs were longer than they were high and had an abundant of hair that varied between yellow, red, and some with spots.
Chien-gris- Originated in Medieval times and was known as a headstrong scent hound. By the nineteenth century, this breed had become virtually impossible to find due to the mixed breeding and also from the Revolution on French hunting. It's supposed that this breed went into the makeup of the Bloodhound. 
Dogo Cubano-
Also known al the Cuban Mastiff, is an extinct dog from Cuba that was used for dog fighting and capturing runaway slaves during the Second Maroon War (
an eight-month conflict between

 Jamaica

 and the British in 1795). After the abolition of slavery, people were no longer paid to keep the dogs, and the breed eventually ceased to exist with time. This breed is about the size of a bulldog and a Mastiff. They had a short muzzle, a flat head, droopy chops and ears. It is said they were developed from several breeds of bulldogs, Mastiffs and other cattle dogs. 101
English Water Spaniel- 
at The last of these dogs were seen in the 1930s. They are described as a cross between a Poodle and a Springer Spaniel. These Dogs are best known for hunting duck because they were described to swim and dive just as well as the ducks themselves; and they were smart enough to avoid being lured away from the nestling places.  
Molossus-  This giant pooch is ancestor of today's Mastiff and many other dog breeds like the St. Bernard, Rottweiler,Great Dane, Newfoundland, and more. The Molossus breed was praised for their bravery and physical superiority. Some sources say the Molossus was used for fighting tigers, lions, elephants, and men in battle by the Ancient Greeks. Other sources say this breed was used for hunting, herding, and also guarding the Molossian Shepard's flocks.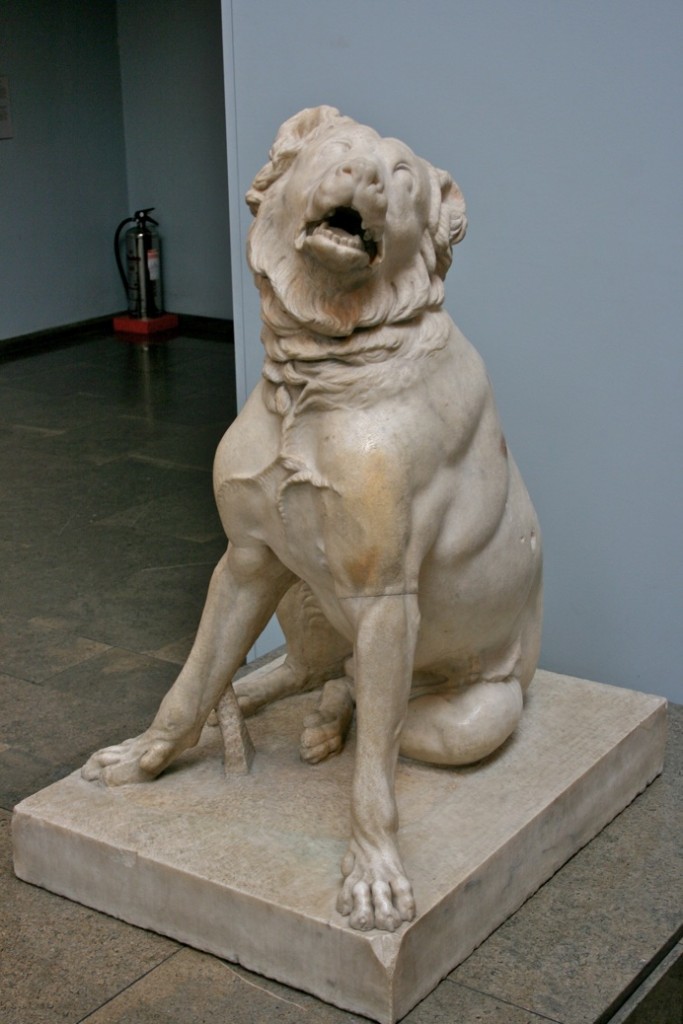 Hare Indian Dog- 
This breed was a domesticated coyote originally bred in northern Canada and used for coursing, a common hunting technique at the time. The Hare Indian dog was speedy like the coyote, and had a temperament of a domestic dog. In the 19th century this breed slowly dwindled down to extinction when aboriginal hunting methods declined. 
The Hare Indian dog was very friendly and would rub against your legs like a cat. 
This dog was unusually small and slenderly built. He had pointy ears and fur was long and straight with a thick and bushy tail. Usually the color varied, white as a base and grayish black and brown spots. 
Hawaiian Poi- 
The Hawaiian Poi originated in the Hawaiian Islands and derived his name from poi, a popular Hawaiian food made from taro root. Meat was too valuable to be used as dog food so the dogs were given poi instead to fatten them up. These dogs were pot-bellied, and short legged. They would vary in any color and had flat heads. There were no large animals on the island other than feral hogs, so Poi dogs weren't used for hunting. Instead they were considered dim-witted and sluggish. The islanders saw the Poi Dog for two different reasons. Either for food or as a good luck charm, and when eating dog meat became unfashionable in the early 20th century, the breed declined to extinction. It's too bad, he's so darn cute! 
Norfolk Spaniel- 
This pup is best describes as being a large cocker spaniel. They were white with either black or tan markings, and would stand about 16 to 18 inches in height. Even though this breed was described as stubborn and difficult to train, they would form a strong attachment to their owners and proved themselves as excellent land and water hunters. If not successfully broken, this breed would be headstrong and ill-tempered. In 1890 it was considered to be virtually extinct because there were many other Spaniel breeds and the general public saw it only as a generic land spaniel.
English White Terrier- It is said that the original English white terrier had been a fox terrier crossed with a white Italian greyhound and was created when dog shows started becoming popular in the 1860s. This breed was possibly the first breed to be developed primarily for appearance. Handlers were eager to create the perfect terrier breed and the English White Terrier was the byproduct. Their coat was hard, short, and glossy. The perfect show dog would be pure white and would weigh between 12 lb. to 20 lb. This breed died out in the early 20th century because it suffered from many different health problems.
Old English Bulldog- This dog can be perfectly described as a small Mastiff with a comparatively long head. The Greyhound was crossed into this breed in hopes to increase it's speed. They stood about 15 inches high, weighed about 45 pounds and had a lower jaw that projected considerably in front of the upper jaw. The Old English Bulldog was popular in dog fighting and bull-baiting but when the Cruelty to Animals Act passed in 1835, the breed slowly started to dwindle. Despite the new laws, some breeders were determined to create a superior fighting dog so they crossbred the Old English Bulldog and the Old English Terrier to make a dog that was quick and dexterous. This new breed, called the Bull and Terrier is the precursor to the Pit Bull Terrier which in turn accelerated the extinction of the Old English Bulldog.
Sakhalian Husky- This breed of dog was a Japanese breed used as a sled dog. It is said that the Sakhalian Husky is an ancestor to the Akita Inu. Their ears were small and pointed. They came in many different colors and had thick  hair with a dense undercoat.  In 2006 the film Eight Below was released as a fictional version of a famous arctic expedition in 1958. During the expedition, an emergency evacuation had forced Japanese researchers to leave behind 15 sled dogs chained outside with little food supply and terrible weather conditions. Incredibly, almost one year later, a new expedition arrived in the same spot and discovered two of the 15 dogs had survived. The two survivors, both Sakhalian Huskies, Taro and Jiro became instant heroes are now stuffed and on display in two different Museums. The last two surviving pure bred Sakhalian Huskies were recorded in 2011 and died from the ill effects of World War 11.