The Georgia Bulldogs have had a English Bulldog as their mascot since the 1950s! This is a history of UGA and those who have served in the role.
The Backstory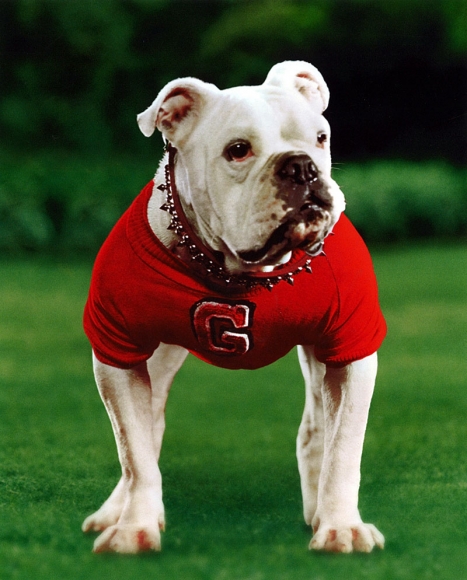 There have been ten English Bulldogs that have bestowed the Uga nickname since 1956. Each Ugahas been owned by Sonny Seiler and his family, since he first brought the dog to a Georgia football home game that year. Then Head Coach Wally Butts loved the idea of having the dog around, the name came about after being suggested by a friend of Seiler – being a play on the UGA abbreviation for University of Georgia.
Ever since that time Uga has been an entrenched part of Georgia University football and is known to fans outside of the confides of the University as well.  The first Uga was the longest serving (1956-1966) while Uga VIII had the shortest reign, serving between October 2010 to February 2011. While seemingly just a mascot Uga often travels to away games with the team, while also making special appearances at functions as well.
The University maintains a custom air conditioned dog house for Uga at Sanford Stadium, where they play their home football games. Uga represents school spirit in its finest fashion and has the opportunity to live a very interesting life.
[adinserter block="2″]
[adinserter block="7″]