Dogs are called man's best friend for a reason. Throughout history, some have expressed immense bravery in the face of danger to protect their two-legged companions.
Search-and-rescue dogs are among the first to respond to catastrophes from terrorist attacks to natural disasters. Military dogs have taken bullets and heated shrapnel to defend their handlers. Even ordinary dogs answer the call when their owners are in trouble. Consider the beagle who brushed away a torn ligament and looked for help after her owner was hit by a car. Or the Chihuahua who almost lost an eye while defending a child from a rattle snake. One beagle even called 9-1-1 for help. Seriously. And there are even more amazing stories about hero dogs out there.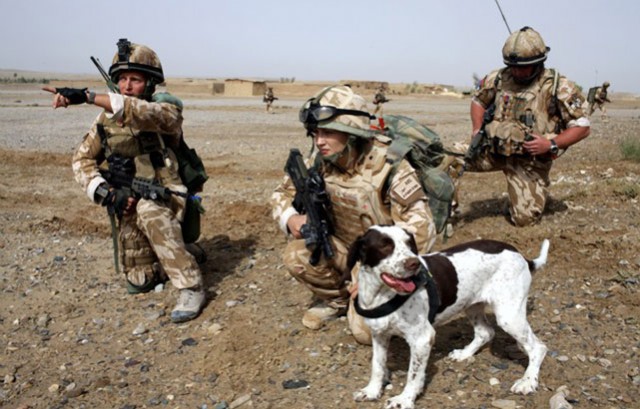 [adinserter block="3″]
[adinserter block="8″]
Read on to learn more about these courageous canines.
1. Gander
Throughout history, canines have been deployed to warzones to aid their two-legged brothers in arms. They sniff out explosives, warn troops of approaching danger, and even fight off enemy combatants. And sometimes, they make the ultimate sacrifices.
Gander is among them. This Newfoundland served with the 1st Battalion of Canada's Royal Rifles. In 1941, he fought gallantly alongside Allied troops against Japanese forces in the Battle for Hong Kong. At one point, Gander watched a grenade roll toward his friends. So, he put it in his mouth and carried the grenade back to the enemy before it detonated in his mouth.
Gander saved dozens of human lives at the expense of his own. He was posthumously awarded the Dickin Medal in 2000. This decoration is the animal equivalent to Britain's Victorian Cross, the highest military honor awarded for valor.
[adinserter block="7″]
[adinserter block="2″]