To a dog, peanut butter is the ultimate treat as it is both sweet and salty, gooey – and when lucky, chunky. Oh, and the jar in which it comes? Doubles as a chew toy! Before you treat your dog to a serving of peanut butter, it is best to make sure that it is not allergic to nuts.
Are you ready to be amused? Click "Next Page" to browse the gallery ↓↓↓
Dog experts suggest that raw and organic peanut butter is best.
"Do I have something on my face?"
Have you ever had peanut butter so good that you can't help but close your eyes and savor the moment?
Mmm, peanut butter popsicle! Best day EVER!
"It's food, a chew toy, and it's all mine!"
"Gotta lick this jar clean!"
Peanut butter-wasted
Imagine the money we could be getting for product placement.
Yes, peanut butter rules!
"No cookies and milk for me before bedtime, just this yummy jar of peanut butter."
"This is my peanut butter face!"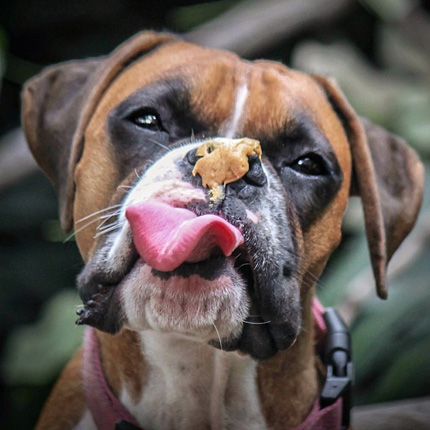 You can do it, just a little bit more.
"I need a new jar."
"Whoa, it's even bigger than my head!"
Peanut butter makes everything all right.
Too hip for mainstream peanut butter.
Need to see more amazing doggies? Click any photo to the right →