Thank God for the internet.. like seriously, right? A place where we can waste our days away looking at endless cute doggy gifs, pics, and memes. Well we are that special place of the internet that has the best of the best doggy entertainment, and in the specific arrangement of fun, you'll see 17 (GIFs) reasons why doggies are our FAVORITE animals!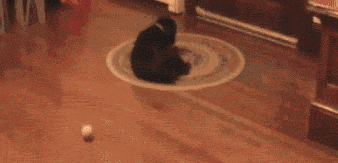 That clever bastard…
It's SUPPEERR dog!!
When we try telling them that their dad was an actual bear.
Pongo seems like a fitting name for this bouncy guy
The cutest a cappella group around…
White dog is full of tricks and brown dog doesn't have the proper leg strength to keep up.
Cute ducky bathtime (ΘεΘ)
Cute piggy play time
When Bull Dog's have more fun than you do..
An adorable unlikely friendship
Careful..careful… whoaa!! That works.
Hey human get over here! Raawwrr
Oh I love everything about her.. her legs, her your voice, her adams- (⊙_⊙)
Scuttle Scuttle Scuttle
Time to wake up humans!!
Chew chew chew, aren't I adorable?
Cute sleeping babies!