Jeremy Zuttah, who plays center lineman for the Baltimore Ravens, was supposed to get married at City Hall last week. But when he and his fiance, Heran Haile, found out that the venue couldn't accommodate their pitbull Ace, they called off the wedding!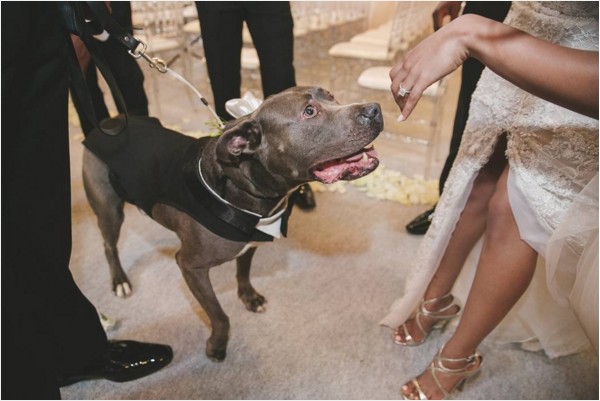 Dog Lover or Groomzilla?
As far as celebrity groom/bridezilla moments go, this one is 100% justified. Afterall, Ace was one of Jeremy's groomsmen.
Yep, you read that right. In fact, the NFL star initially wanted his best friend to be the best man. But, as Zuttah wrote on the team's website,
"He wasn't the best man because he can't speak. And you have to do a speech at the reception."
Okay, so most people would understand why a 40-pound bulldog wasn't allowed to enter City Hall. But it's not like Zuttah threw a fit and cancelled his big day altogether – the wedding was simply postponed and moved to another location.
They chose a beautiful venue in downtown Baltimore and Zuttah proudly walked down the aisle next to his best friend Ace.
Here they are, making their way down the red carpet (in matching tuxedos.)
The Bride's Reaction?
We can all agree that it was very sweet of Jeremy to stand up for his pooch. But, when you look at the situation from the bride's point of view, you can see how his decision may have been 'a catch 22'…
Well, Heran Haile is definitely not your average bride – she was just as adamant about Ace being at the ceremony as the groom. Here's what Heran had to say about their pooch:
"He's just awesome. I couldn't even imagine getting married without Ace. He's with us every day and everywhere we go."
When her reaction to Zuttah's last-minute decision was met with surprise, Heran brushed it off saying she would "insist on it anyway."
" I thought everyone was crazy about their dog like I am."
The now-happily-married couple have always been strong advocates of pet adoption and dogs in general. Heran plans to dedicate her career to helping non-profit rescue groups and animal shelters. Meanwhile, Jeremy is known for his social media activism – he has been telling his fans to "adopt not shop, bro" ever since he was first drafted into the NFL.