After spending five weeks alone on the median of a highway and enduring the pain of a broken leg, a missing doggie may soon find her forever home.
Meet Frida. This pooch fell off the back of a pickup truck driving along Highway 99 near Sacramento in early April. Soon, frantic calls about a stranded dog in the middle of the highway were pouring into the Galt Police Department.
When officers arrived, however, the dog had vanished. The same scenario happened for several weeks until the calls stopped.
Officer Sylvia Coelho, who was determined to find the five-year-old German shepherd, feared the worst.
"Last week, when we stopped getting calls, I thought something happened, she, you know, died," Coelho told KCRA 3 in May.
A Sign of Hope
On May 14, a driver saw the dog again and dialed the Galt Police Department. Coelho responded.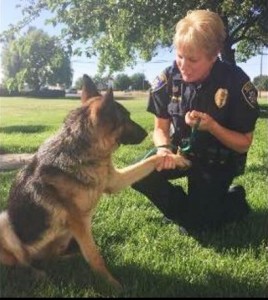 "I'm like, 'OK. We're going to find this dog,'" Coelho told the Los Angeles Times. "I never work weekends. It was meant for me to work that Saturday."
Coelho and Officer Christina Hill arrived at Highway 99, but the dog made a run for it and the pair almost lost her.
Then, a California Highway Patrol officer arrived and the three worked together to capture the dog. Surrounded by idling motorists, Hill chased the dog toward the CHP officer while Coelho blocked off its escape route.
45 minutes later, Frida was in good hands.
"She fights, she bites. We're saying, 'It's alright, it's alright,'" Coelho told the LA Times. "And those big brown eyes just staring up at me… She didn't fight us after that at all."
Bad Shape
Frida was rescued in poor condition. She had two broken bones in her leg, and suffered tendon damage. She was also very malnourished at 44 pounds, about half of what a dog her age should weigh.
"She was very thin, very emaciated," said Michael Johnson, medical director at the VCA Bradshaw Animal Hospital. "To still be alive seems miraculous to me."
Frida may have survived on rainwater and whatever food she could forge, all while dodging traffic.
"I don't know how you sit on a freeway island for five weeks and not get creamed," Johnson told the Star-Telegram.
A New Future Home
The Galt Police Department says it has received several calls from people looking to adopt Frida. But, Frida may end up with a friend she's already made.
Coelho says she is ready to adopt her if her family doesn't recover her soon. Frida is currently recovering at a hospital and getting normal visits from Coelho. The Star-Telegram reports that at one point, Frida even gave Coelho her paw.
The two are getting along.
https://www.youtube.com/watch?v=aa2CHMngG4g
[adinserter block="7″]
[adinserter block="2″]