To recognize the number of dogs that need to be rescued each year, and to acknowledge our four-legged friends for all the work they do, Pet & Family Lifestyle Expert and Animal Advocate, Colleen Paige founded National Dog Day. National Dog Day has been celebrated annually for the past 11years and wants encourages even non dog owners to donate $5 to their local shelter on National Dog Day.
To shine light on our amazing, courageous, sensitive and sentient fuzzy babies, we're recognizing the different service and working dogs! You'd be surprised there are so many!
Click 'Next Page' to view these courageous doggies in action!
2. The 
Autism Assistance Dogs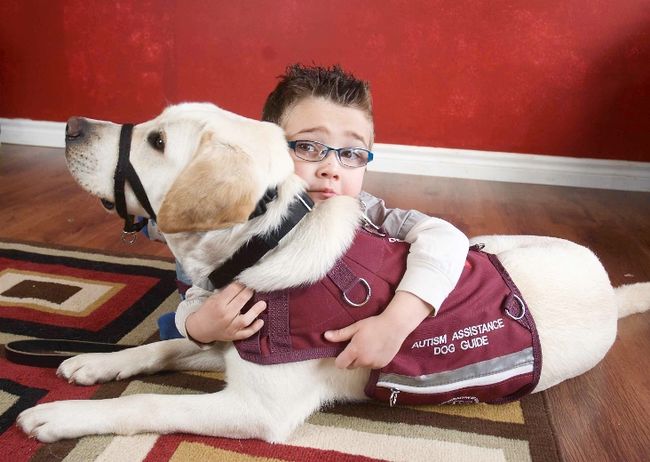 Children with Autism have a great benefit from these service dogs. These hard working, patient pooches act as constant companions and help improve social interactions and relationships, expand verbal and nonverbal communication, teach life skills, increase interest in activities and decrease stress within the family.
3. The 
Diabetic Alert Dogs (DADs)
These pups are specifically trained to react to the chemical change produced by blood sugar highs and lows. These dogs help their handlers lead a more confident and independent lifestyle by alerting their owners in advance of low/ high blood sugar events before they become dangerous.
4. The 
Medical Alert Dogs (MADs)
Medical Assistance Dogs are used to mitigate an extraordinarily wide variety of medical conditions,  like seizures, fainting, and other debilitating symptoms. Once trained, these dogs are able to detect a medical crises before they occur and have the necessary skills to take appropriate action once a medical crises has occurred.
9. The 
Sled Dogs
Many people in the most northern corners of the world rely on sled dogs solely for transportation and deliveries of crucial goods.  These dogs have the strength, discipline, and organization to effectively pull a sled full of goods, and humans through the coldest winds and harshest snows.
HAPPY NATIONAL DOG DAY!!
Click below for endless hours of doggy entertainment!