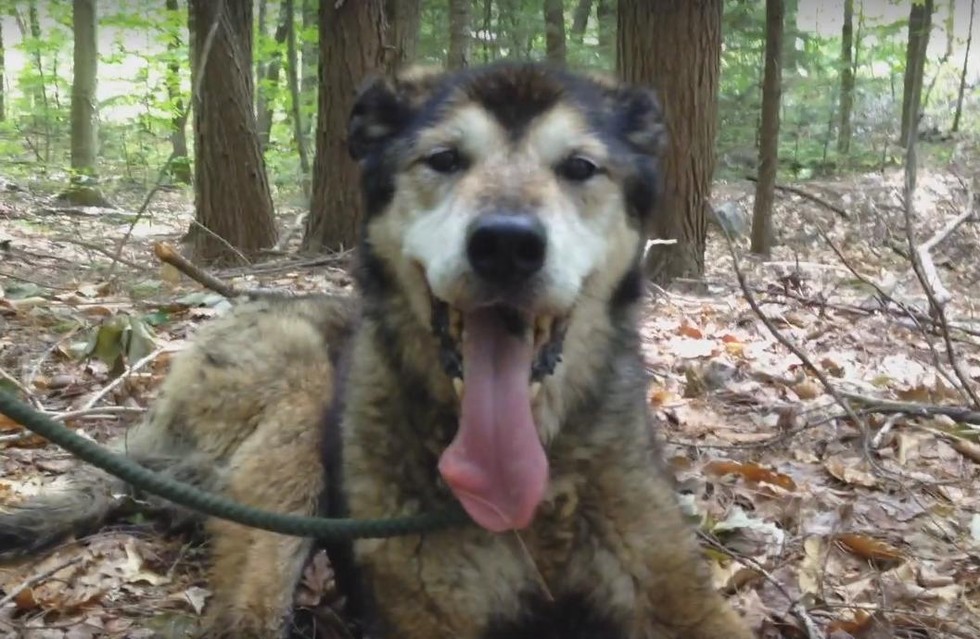 More dogs go missing on the Fourth of July than any other day of the year. Luckily, some make it back home. One of them was Rocky, a shepherd mix of Conway, N.H.
This Fourth of July weekend, Rocky panicked at the sound of fireworks going off, and he darted away from his family. He ended up deep in a remote area of the Conway woods. The 17-year-old dog suffering from cancer and a range of other illnesses probably would have spent his last days there.
But that wasn't the case for Rocky.
A concerned neighbor, the determined staff of a local animal shelter, and strangers on social media came to the rescue.
The Rescue Mission
Jake Higgins, a local logger, was working with his father in the Conway woods on Thursday when he decided to call the Conway Area Humane Society. Operations Manager Debra Cameron picked up the phone.
Higgins told her that he had seen a dog walking around for the last few days. He said the dog had trouble walking and he looked confused. Along with volunteer Kevin Ahearn, Cameron went to the woods to meet up with Higgins.
Higgins met them at the end of a logging road with his ATV. Cameron and Ahearn hopped on and Higgins drove the rest of the way, which was impassable without the ATV.
"Jake and Kevin hopped off to check a path the dog had been seen on and quickly spotted a glimpse of some fur moving down a slope towards a swamp," Cameron told ABC affiliate WMUR. "Kevin and I pursued on foot and Jake headed back to the logging site in the direction the dog was headed.
"We ran ahead caught up to the dog and secured him. We realized he was having a hard time walking so Kevin carried him all the way back to the van.
The Rescue Goes Viral
Cameron shot and edited a video of the rescue, which she shared on the shelter's Facebook page. The video was viewed more than 1,800 times and got more than 600 shares.
"Within an hour someone commented they knew the dog and family," Cameron said.
Ecstatic, Rocky's owner picked up the pooch right away.
"Our worst fear was that someone had purposely driven an old sick dog out to the middle of the woods to die, but the best case scenario prevailed, this was a loved dog who had become frightened by fireworks and lost," Cameron said.
Rocky's owner had spent the last few days searching through Conway's woods and swamps.
"They were so grateful," Cameron told The Dodo.com. "Rocky's dad is a very nice man. He gave us a $100 donation when picking him up this morning. He has helped other people locally search for lost pets and is an avid dog lover. It was such a relief to learn Rocky was his and such a loved pet."
Rocky made it back home with no injuries.
Cameron has some words of advice to keep all dog's safe next Independence Day: Warn your neighbors before lighting fireworks, so animals could be brought back inside.