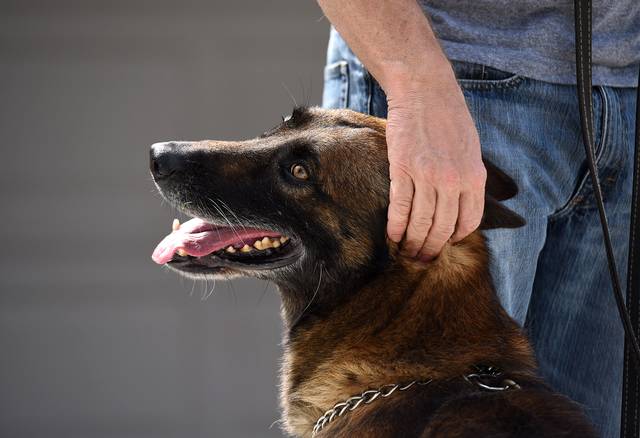 A retired K-9 is recovering from injuries after being attacked by an alligator, while playing near the water in his handler's backyard in Palmetto, Fla.
The dog Arek belongs to Chris Leister, an officer with the St. Petersburg Police Department. The Belgian Malinois was rushed to Ellenton Animal Hospital on Tuesday. He was treated for his wounds and given antibiotics.
Dr. Dana Walstad, who treated Arek, told the Miami Herald that Arek suffered a three-inch wide tear on his forearm and minor tears further down his leg.
Leister's neighbors who have seen the alligator describe it as nearly nine feet long. Lester says he believes the former police dog fought back, because an alligator that size would have not let go so easily.
"I'd expect him to fight through everything," Leister told the Miami Herald. "It's what they're trained to do, is fight through anything."
Walstad says Arek was lucky to have walked away despite his injuries.
"All in all, for a gator attack and what Chris described as the size of the gator . . . very lucky dog. It could have gone much worse," Walstad said.
Wildlife authorities are still trying to capture the gator.
Walstad said it's breeding season for alligators in the area.
"These guys are moving from place to place now looking for partners," Walstad said. "One day there may not be a gator there, and the next there is."
For now, Leister says he is keeping the dog on his leash and keeping him away from the water.
Arek spent several years working with Leister before the dog was given to him after he left the Palmetto Police Department for a job at the St. Petersburg Police Department.