On July 4, flashes of bright colors will engulf the skies and thunderous roars will echo across the nation as Americans celebrate their Independence Day. But while people will find this spectacle entertaining, several dogs will find it terrifying.
Dogs' ears are far more sensitive than those of humans, so the noise of fireworks can trigger discomfort and panic. According to research conducted by the Veterinary Clinics of North America, 40 percent of dogs suffer from noise anxiety.
The loud noises common on the Fourth of July can cause dogs to run away in terror.
More dogs go missing on July 4 than any other day of the year, and animal shelters report July 5 as the busiest day for taking in stray dogs.
Vets tell horror stories of dogs trying to escape the noise by gnawing on door handles, hiding in spots so tight they get stuck, and running through glass windows and into oncoming traffic.
According to a study of its insured dogs, Nationwide reported this week that the top Fourth of July-related injury for dogs is lacerations sustained by running through glass windows or fences. The average bill to address these injuries was $346.
So, here are seven tips to keep your dog safe by your side and your money in your wallet.
1. Prep. Your Dog for the Festivities
Take your dog on a walk well before community fireworks begin or before you have guests over for a party or barbecue. Make sure your pooch gets plenty of exercise. Check that the collar is safe and secure.
In case of the worst, have a clear digital photo of your dog ready to share on social media and put on printouts.
2. Designate A Safe Spot
It's best to keep your pooch far away from the action on the Fourth of July. So don't bring your dog to any fireworks displays. Keep your doggie in a comfy, air-conditioned room or in a crate inside a cool closet. Both should muffle some of the outside noise. Leave the TV or radio on, or play soothing music to drown out some of the noise as well.
Also, leave behind some items with your scent on it to make your dog feel more comfortable. If you're having guests over for a party, make this room off limits to them.
3. Monitor Your Dog
If you don't want to keep your dog locked up inside while you're throwing a barbecue or party, make sure you keep an eye on your pup and never leave him unattended. Food scraps can harm or even kill your dog. According to Nationwide, the second most common fourth-of-July related dog injury is intoxication due to eating food scraps or ingesting alcohol.
Also, post signs near exit doors and gates reminding guests to lock exits behind them as a pet may get loose.
4. Keep Your Dog Entertained
Play with your dog during the festivities and encourage guests to do so as well in order to keep its mind off the noises and distractions. This is also a good way to keep your dog away from the barbecue flames.
5. Keep Your Dog Hydrated
Keep your dog away from the grill and make sure your dog has easy access to plenty of water throughout the vicinity. A dog can really dehydrate in the summer heat.
6. Make Sure Your Dog has ID
Make sure your pooch's dog tag is updated with the latest contact information in the event it does manage to run off. At major pet stores like Petland and Petco, you can make dog tags on the spot.
Having your dogs microchipped is another great option.
7. Have Medication Ready
If your dog needs meds to deal with conditions like noise anxiety, make sure you get them in advance. Many pharmacies are closed on Independence Day. According to DogTime.com, more than 7 million pet owners will seek tranquilizers and other remedies from vets on the Fourth of July.
If your dog does go missing, call your local animal shelter or rescue immediately.
Hope this post helps you keep your doggie safe and happy this Fourth of July. Happy Independance Day!
Now, enjoy some more pictures of Americanines.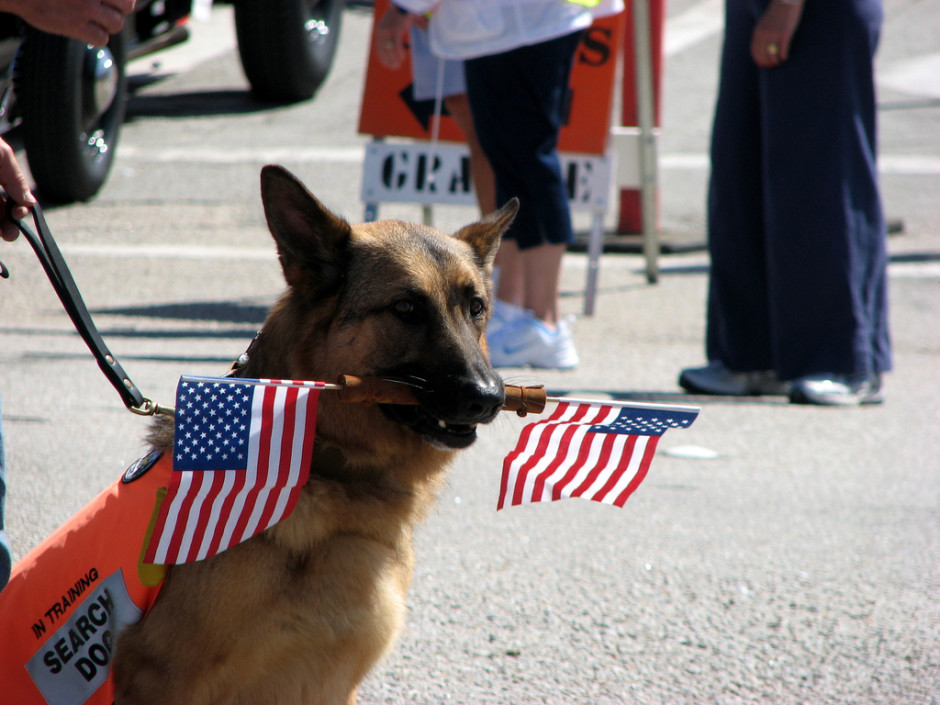 [adinserter block="7″]
[adinserter block="2″]