The smiling dog which just took the Internet by storm may not have much more to be smiling about. The pooch, which was recently adopted by a Michigan musician, may have to leave his forever home.
Waterford Township Police say that Diggy looks like a pit bull and could be violating a long-standing ordinance banning pit bulls and pit bull mixes.
Diggy's owner Dan Tillery argues he is an American bulldog.
What is Diggy?
The Detroit Animal Care and Control classified him as an American pitbull before sending him to the Detroit Dog Rescue shelter, which put him up for adoption. A veterinarian with the shelter also classified him as an American bulldog.
Tillery obtained a Waterford Township dog license Wednesday which also labels Diggy as an American pitbull.
However, a May 31 post on Detroit Dog Rescue's Facebook page indicates Diggy, formerly known as Sir Wiggleton, is a pitbull mix.
That post read, "Wiggleton has been waiting so patiently for his forever home. This goofy guy does well with other dogs and children, but has not been temperament test with cats.
Wiggleton is a 2 year old American Bulldog/Pitbull mix that loves the water and is just a big goofball. We can't wait to see this guy go to his forever home. To adopt Sir Wiggleton please fill out an adoption application at DetroitDogRescue.com"
Now, police want a vet of their choosing to examine the dog. Authorities say Diggy can stay in his home if this vet determines he is not a pitbull or pitbull mix.
"We just want to enforce the ordinance," Waterford Township Police Lieutenant Todd Hasselbach told WXYZ on Friday. "If he's willing to go to the vet to get the dog looked at for us then that's fine too."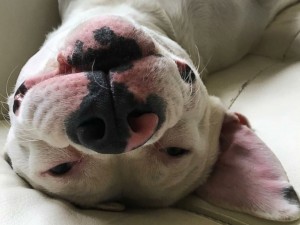 Diggy became an Internet sensation and was named the "Smiley Dog" after Tillery shared pictures of himself with a smiling Diggy on social media.
Tillery is determined to keep his pooch no matter what it takes.
"I will fight for him," Tillery wrote on his official Facebook page on Friday. "He is my family."
[adinserter block="7″]
[adinserter block="2″]