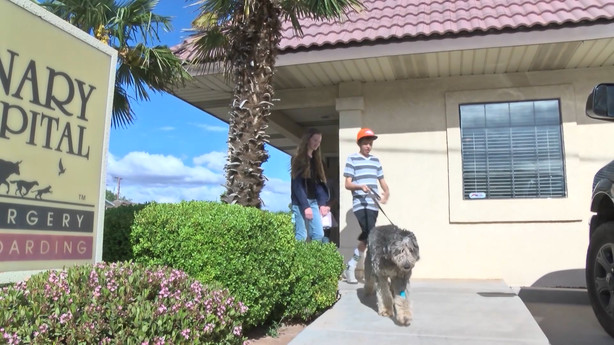 Toby, an English sheepdog-poodle, was on a trail hike with the McInnes family. At one point, the dog noticed something and ran off. He ended up falling 150 feet off a cliff before tumbling the same distance down the mountainside.
The lucky pooch survived a 300-foot plunge off a cliff in Utah.
"It was awful. You could hear him sliding and bouncing and yelping," dog owner Ben McInnes told KSL-TV.
Meg McInnes called search and rescue, but the dispatcher warned they don't usually respond to stranded animals.
"When those things happen, we try and help them out … It's not something we normally do, just going to rescue a dog, but it's just the complication of: If we don't, who else is going to try and get down to him?" said deputy Darrell Cashin, with the Washington County Sheriff's Office.
The family waited nervously for more than an hour before responders arrived. Mike Thomas was the first responder to reach the dog. He carried the 75-pound pooch up a steep incline.
"When they were reunited, that was our payment. That was our payoff for that," Cashin said.
Toby later was treated at St. George Regional Veterinary Hospital
"I've been doing this for 25 years, and I've had patients fall 20 feet and die" said Dr. Kelly Houston, who treated Toby. "I've never had one do what Toby did and survive."
However, Toby suffered injuries to his head, eyes and brain. He is recovering comfortably at his family's home in Eagle Mountain.
[adinserter block="7″]
[adinserter block="2″]