Part of the fun of having a furry best friend is getting to dress up and go out with them. Sure, they already have a lovely fur coat of their own… but sometimes, just like it can be fun for you, it's nice to let them dress up, too. And no, we don't just mean when they rifle through your closet without your permission!
Dressing up doesn't have to be a full ensemble on your best friend, or even complicated at all. Dressing up is just considering the cute accessories you might not usually wear, much like the ones compiled in this short list for dogs.
1. Bows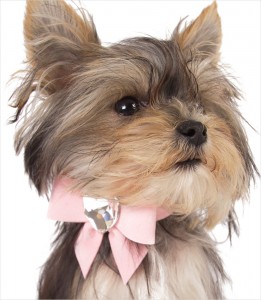 Bows are classic accessories for both boy dogs and girl dogs. They are an extremely versatile accessory that can be worn just about anywhere on their bodies. From the top of their heads to their necks or even on their leashes, they look absolutely fantastic!
What's even better is that you can take it a step further and accessorize the bow itself, like the owner of this cute pup did — by adding a heart shaped jewel to the center of the bow. Très chic!
And if your dog should get the urge to tear their's off, well, they aren't hard to replace either.
2. Doggie Vests
Another pawsitively cute fashion trend for pups is a cute little vest. Depending on the kind you get for your dog, it can be worn any time of the year.
The great thing about this particular trend on our list is that it serves a dual purpose in being both fashionable and utilitarian. Vests can be chosen for their warmth or waterproof abilities depending on the preferences of your pooch.
3. Sunglasses
You don't need to get a prescription for your dog to wear this trendy accessory. But if you feel silly for buying these for your pooch (and shamelessly spamming social media with dog selfies) then you can tell yourself it's a solely functional accessory…
UV protection at its most fashionable.
4. Hats
Hats can make the perfect final touch to your fur baby's outfit. Like shoes, you can never seem to have enough hats.
The same can be said for your doggie's wardrobe. Hats are good to wear any season, and like the hat in the picture suggests with its knitted look — can be store bought or even homemade.
Nothing says 'I love you' quite like a warm little pom-pom hat made from the heart for your best friend.
Plus, think about how much easier it will be to accessorize when you customize your own fashion items?
5. Shoes
Generally speaking, dogs cannot normally be trusted with shoes. It's a sad fact that shoes make up a large portion of the doggie food pyramid. However, we're including them on this list for simple fact that — like several other items included on this list, they are both functional and fashionable.
Shoes for dogs are fantastic because they can keep their paws from blistering on hot concrete or from freezing in the snow. The fact that they are utterly adorable to see on a pooch (never mind how they try to shake them off dramatically) is only a plus.
[adinserter block="7″]
[adinserter block="2″]